Dr. Devon Livingstone
ENTiD
Joule Innovation Grant recipient
Category: Emerging physician innovator ― Resident
$5,000
About the innovation
Diagnosing ear disease is notoriously difficult. Family doctors (GPs) only have about 50% diagnostic accuracy, even for common ear diseases such as acute and serous otitis media.
As a result, they are faced with choosing between risking a misdiagnosis or waiting up to 12 months to refer their patient to a specialist―a problem made worse by the absence of otolaryngologists in rural and under served areas. This system is broken because traditional otoscopes are archaic, analog, and have not changed substantially for over a century.
ENTiD brings ear disease diagnosis into the 21st century. This digital otoscope and ear disease diagnosis platform provides high-resolution imaging at a low cost. Compatible with standard otoscope tips, it integrates perfectly with a GP's current workflow, providing full-field visualization that optimizes GPs' ability to diagnose ear disease.
With ENTiD, GPs can take ear images, store them, instantly share them with an ear disease specialist, and access an AI-based ear disease diagnostic aid. This solution helps physicians better diagnose ear disease, decreases wait times and improves access to care in rural and remote areas.
---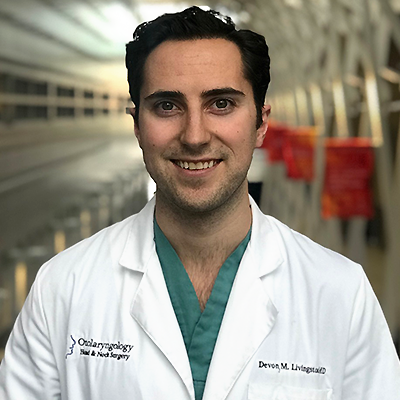 About the recipient
Devon Livingstone, MD, MTM, FRCSC just completed his residency and accepted a position at the South Health Campus hospital in Calgary, Alberta working as an academic general Otolaryngologist Head & Neck Surgeon.
He is also the CEO of ENTiD, a company dedicated to changing the way ear disease is diagnosed. Dr. Livingstone is passionate about improving patient access to quality medical care―and is seeking to use the latest tools in machine learning to accomplish this. He also values an interdisciplinary and collaborative approach to solving clinical problems.
As a fifth-year resident in the section of otolaryngology–head and neck surgery at the University of Calgary, Dr. Livingstone took on a project to determine whether automated machine learning could be used to build an algorithm capable of accurately diagnosing otologic disease. That project was ENTiD.
In 2018, he and his team won Best in Translation at the Innovation 4 Health Hackathon for building a low-cost digital otoscope.
---
What will the grant help them do?
The grant will help them build a privacy-compliant software platform, refine their hardware design and manufacture otoscopes.