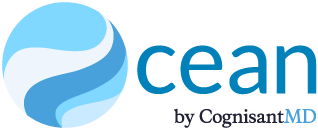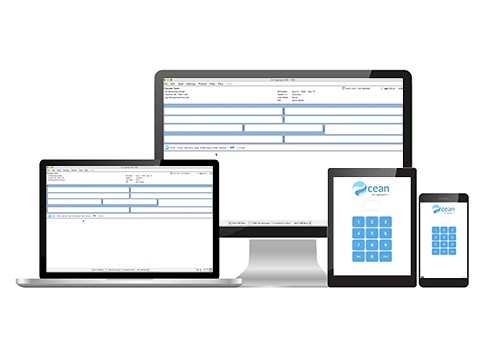 Ocean Platform for Patient Engagement
Patient Tablets, Kiosks and Online Messages that Integrate with Your EMR
Using tablets in the waiting room and secure, emailed forms and messages, Ocean gives you a better way to collect information from your patients. Whether you need to gather a focused patient history, administer a patient health questionnaire, complete a medication reconciliation or screen your population for risk factors, Ocean makes it easy.
---
Eliminate typing, scanning, and manual calculations, while updating the patient chart and generating a concise clinical note for review before or during a patient visit.    
Ocean Kiosk: Automate Administrative Tasks 
With a Kiosk Tablet in your waiting room, patients can easily check-in,  update their contact information, and consent to clinic policies, all without staff intervention. Improve your patient experience while reducing the burden on front-desk staff and keeping patient data up-to-date and accurate.    
Ocean Online Messages: Send Secure Forms, Messages & Attachments
Ocean lets you send forms to your patients to complete at home and automatically  view their responses in the patient chart. With Ocean Online Messages, you can also send secure messages, attach files, and decide whether you want to allow your patient to reply – all without risking patient health information privacy.
Patient Tablets: Collect a Concise History & Administer Clinical Assessment Tools
The Ocean library has thousands of patient-facing forms and questionnaires, including hundreds of standardized and clinically validated questionnaires with scoring and clinical decision support built in.  Easily customize existing forms to add your to the Ocean library using the drag-and-drop online editor.   
Ocean eRequests: Put Forms & eReferrals On Your Website
With Ocean Website eRequests,  you can offer everything from new patient intake to prescription renewals and appointment requests—all online, from your existing website. Reduce call volume and pressure on your staff, while saving time and improving patient satisfaction.

New patient intake
Allow your patients to complete registration forms from the comfort of their home, while automatically populating the patient record in the EMR. This allows the clinician to review the information before the patient even arrives at the office. This saves time for staff while helping reduce transcribing errors and eliminating the need to clarify patient handwriting.

Secure patient messages
With Ocean, you can now send secure messages to your patients, add attachments, and allow them to respond – all without risking the safety and privacy of PHI. You can even request an alert when your patient has read or responded to a message, and receive notifications if a message is not viewed within a timeframe. 

Patient health questionnaires
Allowing patients to complete clinical questionnaires from home before – or in between – appointments can help make visits more efficient and improve patient care. It can even reduce the need for unnecessary appointments by allowing remote monitoring of patients with chronic conditions.

Patient feedback surveys
Ocean makes it easy to collect anonymous patient feedback surveys for quality improvement. With Ocean's bulk send option, clinics can increase response rates and collect a more representative sample of patient feedback.

New patient intake
Receive new patient requests, self-referrals, and even clinician referrals right from your website, without risking patient data security. Whether you are adding new patients or just accepting wait-listed referrals, you can make the patient registration process easy for everyone involved. Collect all the information you need, including a patient history, with no paperwork, scanning or typing for your staff.

Appointment requests and cancellations
With Ocean eRequests, your patients can request an appointment time – or cancel an appointment – right from your website, instead of waiting on hold or getting frustrated by busy signals. You can even add a "Reason for Visit" form to collect information about the patient's concerns upfront. Your staff can follow up at their convenience, reducing pressure on reception staff and improving patient satisfaction.

Prescription renewal requests
Ocean's website-based prescription renewal requests can allow patients to quickly and easily ask to renew a prescription and provide pharmacy details, all from a simple online form. Clinic staff can deal with requests at their convenience, helping to improve clinic workflow and reduce pressure on peak clinic periods.

Uninsured service requests
With Ocean, requests for school forms, travel cancellation forms, citizenship forms, massage therapy and other uninsured service requests can all be submitted online, allowing you to limit unnecessary appointments. By requiring patients to consent to uninsured service fees before completing a request, Ocean can also reduce patient confusion and increase compliance with payment requests. "The value of Ocean is multifold. Particularly with new patients, I find the tablet is a very easy and comfortable format for them to answer questions about their symptoms in a private setting, while I'm seeing another patient. The result is an honest, comprehensive history. Since Ocean generates a clinical note, I can read it before seeing the patient, instead of typing their answers in the EMR during the visit. Not only does Ocean help manage my time efficiently – it also improves the patient experience and reduces wasted time in the waiting room."
Free 2 month tablet subscription + 100 Message Credits with CMA membership   
Ocean Tablet and Online Message monthly subscriptions are available with no contract or commitment. 
* Orders are completed and fulfilled by CognisantMD.