Mr. Philip Edgcumbe
Pico Lantern
Joule Innovation Grant recipient
Category: Emerging physician innovator ― Student
$5,000
About the innovation
Imagine how greatly surgeons and their patients would benefit if―during an operation―the surgeon could inexpensively, safely and non-invasively peer beneath the surface of the organ they were operating. They could see blood vessels, tumours and other important structures. Furthermore, it would allow them to better plan surgeries and help prevent complications.
Philip Edgcumbe invented the Pico Lantern, a miniature projector for surgery, for this very purpose: to give surgeons the ability to peer beneath the surface, better formulate their surgical plans and minimize surgical complications. This pick-up projector for laparoscopic surgery is small enough to be dropped into the abdominal cavity and picked up therein by the surgeon. It is a source of structured light and, simultaneously, a projector for augmented reality in surgery. It is designed as a multi-purpose tool for enhancing laparoscopic surgery.
The Pico Lantern differs from previous projection devices in laparoscopic surgery because the source of structured light is inside the abdomen―it is free to move relative to the laparoscope and no external tracking tool is required. This means there are fewer calibration and registration steps, as well as a reduced lever arm effect so the surface reconstruction and augmented reality projections are potentially more accurate.
The Pico Lantern is intended to improve cancer and surgical outcomes for the 50,000 Canadians that are diagnosed with liver, stomach, pancreatic, kidney, bladder or prostate cancer each year.
---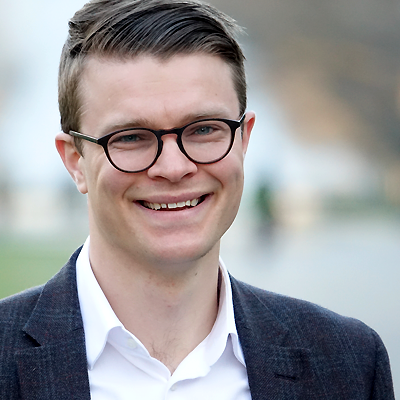 About the recipient
Philip Edgcumbe BASc, PhD, is a Canadian scientist, biomedical engineer, medical innovator, doctor in training (MDPhD) and entrepreneur. Philip has invented, patented and licensed a medical device and was part of two biomedical start-up companies. He is currently the Innovator-in-Residence for the Canadian Medical Association Innovation Lab.
In 2017, Philip led a team that developed a global XPRIZE crowdsourcing competition to end Alzheimer's. His team raised $25 million USD to run the Alzheimer's XPRIZE competition and the Alzheimer's XPRIZE was selected as the top priority XPRIZE for launch in 2019.
In 2011, Philip graduated from the UBC Engineering Physics program with a Bachelors of Applied Science. In 2014, Philip was the recipient of the Outstanding Young Scientist award at the Medical Image Computing and Computer-Assisted Intervention (MICCAI) conference. In 2016, he spent the summer in Silicon Valley at Singularity University where he applied exponential technologies to medical innovation. In 2017, he successfully defended his PhD thesis in Biomedical Engineering at UBC.
He has received the Canadian Medical Hall of Fame Award, Canadian Medical Association Young Leader Award and the CFMS-MD Financial Leadership Award. Philip is a Singularity University Canada Faculty member and he speaks internationally about the topic of Disruptive Technology and the Future of Health Care. 
---
What will the grant help them do?
The Joule Innovation grant will help then further develop and test the Pico Lantern prototype. Through the program, he is also looking to find a business partner.
 

Watch