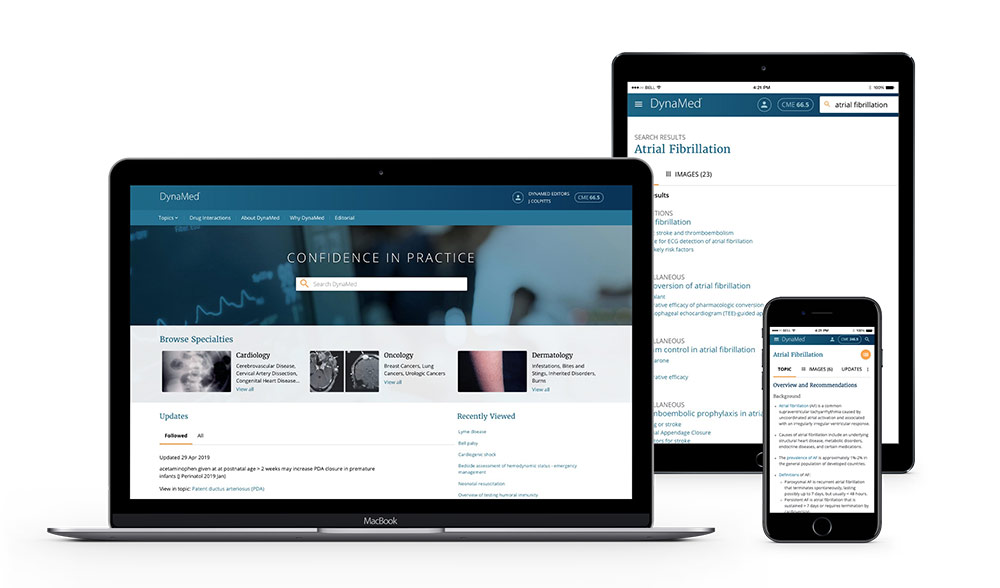 Get answers to your clinical questions quickly
The new DynaMed (formerly DynaMed Plus) is a clinician-focused tool designed to facilitate efficient and evidence-based patient care. Rigorous, daily review of medical literature by physician and specialist staff ensures timely and objective analysis, synthesis and guidance. DynaMed includes drug content from Micromedex, Canadian and international guidelines, and clinical images. 
Access Options
Features
Easy to search topics for actionable recommendations, key takeaways and synopses that provide quick answers―and the ability to dig deeper into the evidence as needed;
Concise overviews and detailed recommendations for clear answers at the point of care;
Content ranging from comprehensive reviews of diseases, conditions and abnormal findings―to focused topics on evaluation, differential diagnosis and management;
Drug and laboratory monographs developed by IBM Micromedex;
CME credit 0.5 Mainpro+® certified Self-Learning credits from College of Family Physicians of Canada and MOC (Section 2) program credits from Royal College of Physicians and Surgeons of Canada for each topic reviewed (online version only).
CMA members have access to DynaMed―a point-of-care reference tool valued at $399 USD per year―included in the cost of CMA membership and. Not a CMA member? Join today.
Disclaimer
All content found on joulecma.ca is provided for information and education purposes. The website provides information on a wide range of health and medical topics. The information is not intended to substitute for the advice of a physician, nor is it intended to provide legal, accounting, financial or tax advice. You should always consult your doctor for specific information on personal health matters, or other relevant professionals to ensure that your own circumstances are considered.
"To stay current with the latest evidence-based medicine, I use DynaMed and UpToDate as my go-to references. DynaMed  provides me with added confidence when caring for patients."

— Dr. William Parker, CMA Member
Related resources