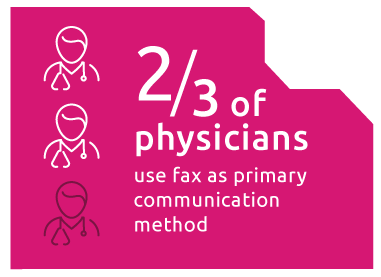 In Canada, the majority of physicians still use the fax as their primary means of communication when sharing patient information and critical medical data with other healthcare professionals. In fact, each standard Canadian medical clinic handles an average of 24,000 pages of faxed information annually1.
The transition to digital solutions like email has been slow, owing to privacy concerns among others. But information transfer by fax presents its own set of security risks—from wrong fax numbers to publicly located fax machines―not to mention loss of image quality upon transmission and paper getting lost in the shuffle.
When it comes to referring patients to other health care providers, the issue is one of more than just privacy. A study conducted at St. Joseph's Healthcare in Hamilton, Ontario, found that 21 per cent of faxed requests for consultations received no response2. The primary issue was specialists returning referral forms ―with either requests for more information or to resubmit referrals on the clinic's preferred referral form. Though some overall improvements were observed after a common referral template was created for the region, specialists reported this form would still arrive incomplete occasionally.
The digitization of our modern lives has created an expectation amongst patients for digital communications with their physicians and between their physicians. More and more physicians too are seeking the benefits of timely and reliable communication3.
---
Electronic referrals, or e-Referrals, enable seamless transfer of patient information from a primary to a secondary treating practitioner's client management system. It may also include virtual consultations.
Transitioning from fax to digital solutions will be no easy feat. It will take intra-system cooperation, investment and will. With effective tools and the training and support required, it can be done―and it has. Innovative solutions are already spreading, changing the way physicians work for the better.
In Ontario, Dr. Doug Kavanagh, co-founder of the Ocean Platform and a celebrated Joule Innovation grant recipient, developed the Ocean HealthMap―a map-based directory of healthcare providers that incorporates valuable wait time data. The Healthmap is at the core of Ocean eReferral Network, which allows clinicians to send and track eReferrals directly from their EMR, and alerts patients by email at every step of the referral journey. Today, thousands of eReferrals are sent each week as the network continues to expand. Read their story.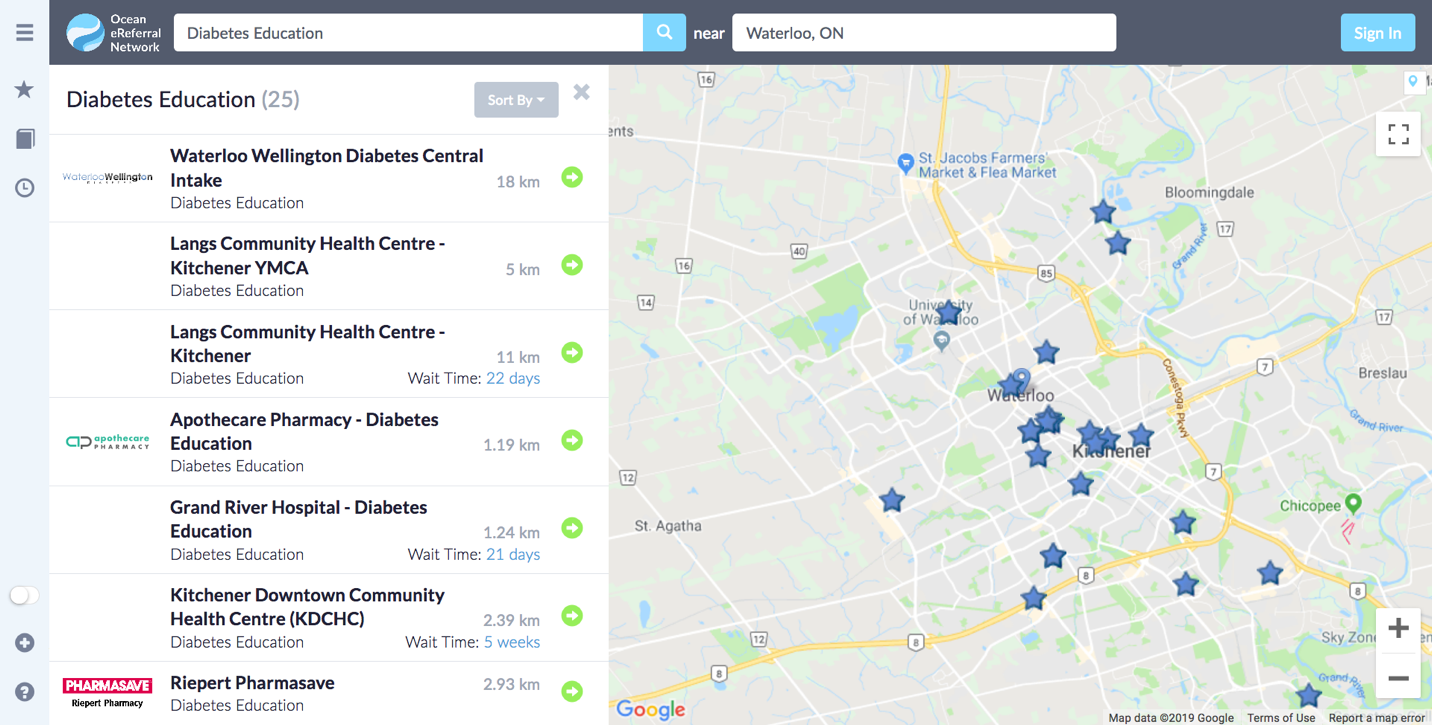 ---
At a systematic level, both patients and providers in Ontario who transitioned to eReferrals through the System Coordinated Access Program4 reported a full spectrum of benefits.
Some of the reported benefits to eReferral include:
95% of patients found eReferral notifications improved their experience
85% of patients reported they were satisfied with the eReferral process
80% of patients felt more informed about their care
85% of providers using eReferrals were satisfied with their experience
79% of providers believe that eReferrals improved communication between healthcare providers
The average wait time for orthopedic referrals decreased by 30 days
The number of unnecessary MRIs was reduced by 12% 
---
The list of technology solutions helping to improve provider communication and eliminate paper faxes continues to grow.  Take Dr. Denis Vincent for example, a 2017 Joule Innovation grant recipient who lost a patient largely as a result of a missed referral―he was so moved by the experience, that he developed his own eReferral solution. Listen to his story.
When transitioning to eReferral and digital communications solutions, physicians can't do it alone. Like any other big shift, it is amazing what a group of people can accomplish given the right tools and support. We applaud the ingenuity of physicians like Doug Kavanagh and Denis Vincent for being part of the solution. For more information about eReferrals―including the opportunities and challenges ahead―check out our curated list of resources on the topic below.
We want to hear from you―share your thoughts or additional resources with us at jouleinquiries@cma.ca.
This material is for informational purposes only. It is not intended to be a substitute for professional medical advice and should not be relied on as health or personal advice. The opinions stated by the authors are made in a personal capacity and do not necessarily reflect those of the Canadian Medical Association and its subsidiaries including Joule.  Feel passionate about physician-led innovation? Please connect with us at jouleinquiries@cma.ca.
---
1 Guerriere, Michael. "Beyond the Fax Machine." TELUS Health, 30 Nov. 2017, www.Telushealth.co/item/beyond-fax-machine/
2 Neimanis, leva et al., "Committee on Utilization, Review, and Education common referral form" Canadian family physician Medicine de famille, vol 60, 10 (2014): 916
3 Barnes, Tom. "NHS 'Stubbornly Attached' to Fax Machines with Trusts Holding onto Thousand of Outdated Devices." The Independent, Independent Digital News and Media, 11 July 2018, www.independent.co.uk/news/health/nhs-trust-technology-fax-machines-doctors-newcastle-surrey-sussex-health-a8443006.html
4 Improving Access to Care; System Coordinated Access Program and eReferral Scorecard, January 2019.


Not a CMA member? Join