Recently, the CMA announced changes to our CMA Joule offerings, including the retirement of clinical tools and services this year. Access to DynaMed will no longer be included in CMA membership as of June 28, 2023. We have compiled a list of alternative clinical information providers to assist you.
---
Get answers to your clinical questions quickly
DynaMed is a clinician-focused tool designed to facilitate efficient and evidence-based patient care. Rigorous, daily review of medical literature by physician and specialist editors ensures timely and objective analysis, synthesis and guidance. DynaMed includes drug content from Micromedex, Canadian and international guidelines, and clinical images.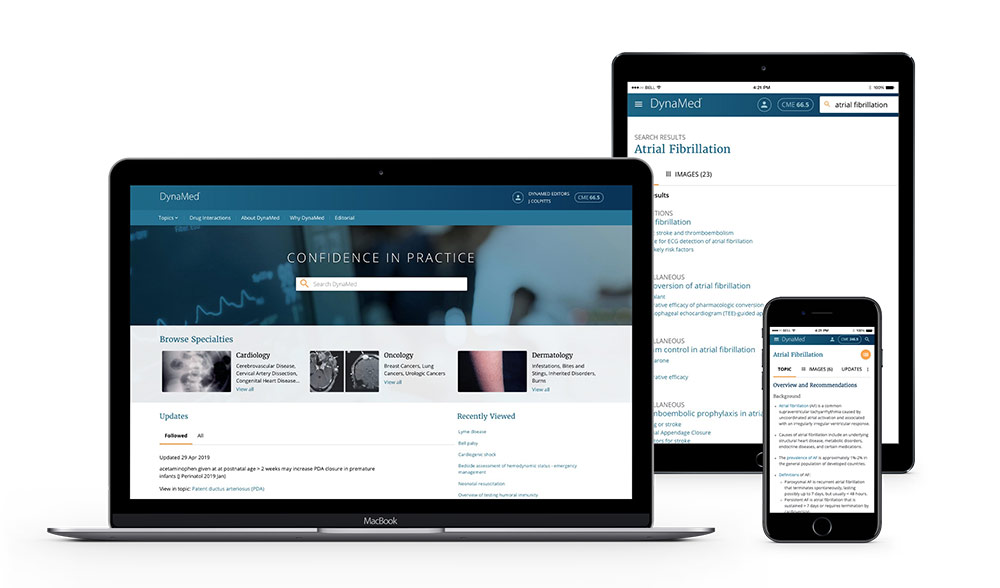 Features  
Log in directly using your cma.ca account
Easy-to-search topics for actionable recommendations, key takeaways and synopses that provide quick answers ― and the ability to dig deeper into the evidence as needed
Concise overviews and detailed recommendations for clear answers at the point of care
Content ranging from comprehensive reviews of diseases, conditions and abnormal findings to focused topics on evaluation, differential diagnosis and management
Drug and laboratory monographs developed by IBM Micromedex
CPD credits: 0.5 Mainpro+® certified Self-Learning credits from the College of Family Physicians of Canada and MOC (Section 2) program credits from the Royal College of Physicians and Surgeons of Canada for each topic reviewed (online version only)
CMA members have access to DynaMed ― valued at US$399 per year ― as part of their membership.
Not a CMA member? Join today.
Access options  
DynaMed online
Access DynaMed through your web browser, using all of the features and tracking CPD credits.
DynaMed app
The DynaMed app offers easy access to current evidence-based content both online and offline. The app is available on  iOS and Android operating systems and can be set up on up to three devices.
How to access the DynaMed app:
Download the DynaMed app from the App Store for iPhone or Google Play for Android. 
On the homepage, select "Sign in with CMA" and use your CMA credentials to log in.
Choose the installation options and accept the terms to begin downloading the DynaMed content. 
When  setting up the DynaMed app, choose whether  to download the online only, partial install or full install. Depending on the version you choose,  download, extraction and verification can take up to 30 minutes. Dueto the amount of content, we recommend downloading the app on WiFi.
---
Have questions or need support? Ask a Librarian 

"To stay current with the latest evidence-based medicine, I use DynaMed and UpToDate as my go-to references. DynaMed  provides me with added confidence when caring for patients."


— Dr. William Parker, CMA Member